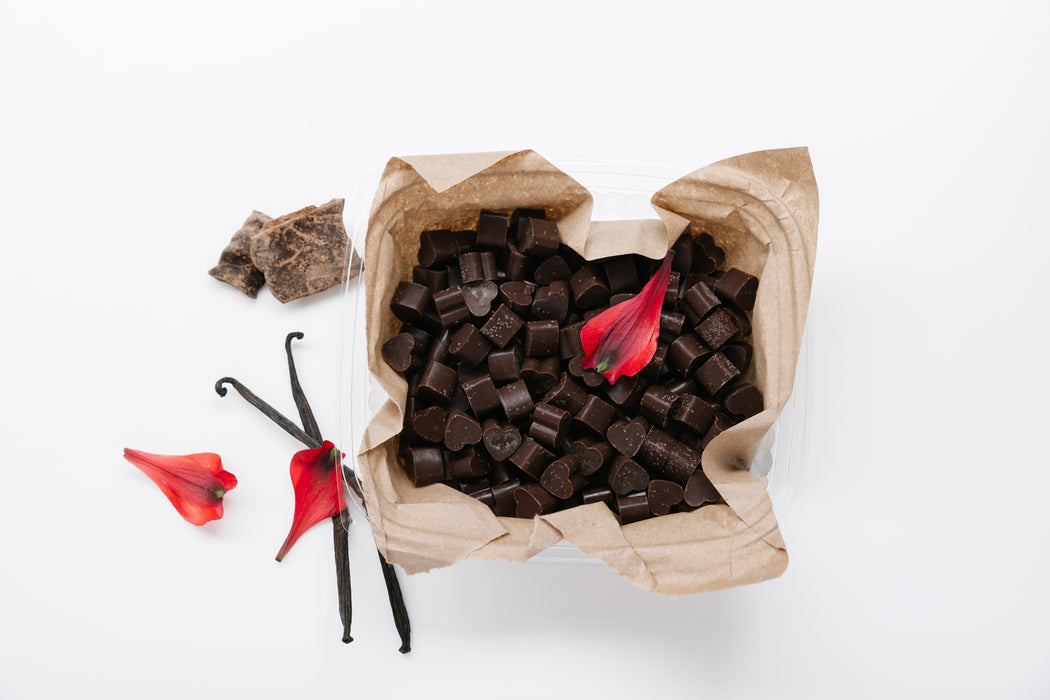 Sale
Sale
Original price
$27.00
-
Original price
$27.00
GLOW Chocolate Mini Hearts - Vanilla (300 g)
Our classic GLOW Chocolate Vanilla (based used to make vanilla almond butter cups!) has made its way into mini hearts. Same chocolate, different shape so a bit of a different flavour and totally different experience!
About Mini Hearts
Some GLOW-lovers prefer our GLOW Chocolate in smaller mini bite sized shapes : they are easier to eat and make for un petit quelque chose sucré (a little something sweet) to eat after a meal to satisfy sweet cravings without having a whole dessert and feeling lethargic afterwards.
Parents also love this size for their children. 

You can also easily use mini hearts to create quick and healthy desserts.
They can be added to fruit and coconut yogurt bowls, sprinkled on cakes, ice creams, parfaits, chia puddings, added on top of crepes or pancakes. The options are endless!

Hot Tip! Many GLOW lovers enjoy pouring their morning coffee over a few mini hearts for an instant healthy mocha full of great fats with next to no sugar! 
About GLOW Chocolate Hearts
GLOW Chocolates are decadent, vegan, melt-in-your-mouth, good-for-you chocolates that are refined-sugar free and made with the finest organic heirloom Ecuadorian cacao.
GLOW Chocolate hearts are lightly sweetened with Canadian maple syrup from a small farm in Quebec and secretly co-sweetened with BC grown green stevia.
Each handcrafted chocolate is infused with reiki energy to harmonize and lighten the chocolate (when you try it you may sense it) and is made with conscious intention to bring forward to best of what ceremonial grade cacao has to offer. 

The flavours of heirloom cacao vary widely!
So for every batch, the recipe is customized to bring out the best of the unique flavour notes of the cacao we are working with. We balance flavours using intuitive guidance by both physically adding bit extra coconut oil, cacao, maple - or whatever the chocolate calls for, as well as energetically adjusting the flavours. 
If you don't believe us, don't worry, you will still benefit from and taste the palatable difference that flavour balancing with energy makes ;) 
Please note, because our fresh product uses organic coconut oil, our products need to be kept refrigerated and stored in an air tight container. Please visit our FAQ page for more information.  
Vanilla Chocolate Mini Hearts Ingredients
raw organic cacao paste, organic coconut oil, organic coconut, organic raw cacao butter, organic maple syrup, raw organic lucuma, raw organic maca, raw organic green stevia, organic raw vanilla bean, Himalayan salt, LOVE.
GLOW Chocolate is produced in a facility where gluten and nuts including peanuts are processed.
Vanilla Chocolate Mini Heart Nutrition Facts
Click here for nutrition facts